Non-profit and charitable organizations, and government organizations donating the surplus office items are invited to register for the program on the Community Donations Web site. Click on the requested role and select the appropriate category for your organization.
Community-based organizations that are registered in the program gain access to a weekly updated listing of used office items complete with descriptions, locations and Terms of Transfer for each item. All donated items must meet program guidelines before they are posted.
Items may include used furniture such as desks and chairs, office supplies such as calculators and filing cabinets, and equipment such as printers, cellphones and computers. The items are listed under postings on the web site.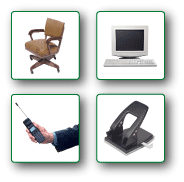 Participating in the Program
Every week from Thursday to Wednesday, community-based organizations can express an interest in any of the items posted by clicking on the request button. At the end of the week, one organization is randomly chosen by computer to receive each item. All recipients are notified by the program administrator.
Community-based organizations are responsible for claiming and picking up awarded items through a mutual agreement (Terms of Transfer) with the government organization donating the surplus item.
If you require further information about the program please click on the "Program Description" at the bottom of the page, or if you have questions please contact the Community Donations Program Administrator.
If you are experiencing website errors, please try using another web browser such as Google Chrome or Mozilla Firefox. If the problem persists, please contact the Community Donations Program Administrator.
Please enter your contact information. All required fields have a red asterisk (
*
) before them.